3 Cash-Rich Dividend Stocks To Fight Rising Interest Rates
The US Federal Reserve has recently its most significant interest rate hike since 1994 to counter four-decade high, pushing the deeper into bear market territory.
As investors scramble for places to park their money, one option is to seek refuge in cash-rich companies that pay steady dividends. On top of providing a safe income stream, such stocks can usually fare better through prolonged economic fallouts.
Sectors that generally perform well in such an environment are healthcare, defense, retail, and mega caps.
One place to look for such players is the dividend aristocrats index. The group includes stocks in the S&P 500 that have hiked their payouts for at least 25 consecutive years. During market, investors tend to turn to these dependable payers.
Here are three cash-rich, dividend-paying stocks from the group which you can consider adding to your income portfolio:
1. Target
The biggest concern when picking a stock dividend for a long-term portfolio is whether the company can produce strong cash flows in good and bad times. Minneapolis-based retailer Target (NYSE 🙂 certainly fits the bill. It closed Tuesday at $ 144.70.
The company has steadily increased its dividend every year for the last 50 years — a period that includes the dot-com collapse of the early 2000s, the financial crash of 2008-2009, and the COVID-19 pandemic of the past year. Its latest dividend hike came early this month when the retailer raised its quarterly payout by 20% to $ 1.08 per share.
Target's current share price provides a good entry point for long-term investors that wish to lock in its more than 3% dividend yield. The stock has lost more than a third of its value this year on concerns that sales and profit margins will decline as inflation curbs consumer spending.
This uncertain period won't last for long, in our view. Analysts expect Target to shed the current excess inventory by August and return to solid profitability during the critical back-to-school and holiday sales seasons. Furthermore, the retailer has a robust balance sheet, strong cash flows, and a manageable payout ratio.
2. Abbott Laboratories
Like retailers, health care stocks can provide a regular and growing income stream even when waters get rough. That is because its services remain crucial to society despite the macroeconomic environment. Plus, economic swings don't typically curb the roll-out of new drugs and medical devices.
In this space, we like Abbott Laboratories (NYSE :), a manufacturer of global medical devices, generic drugs, and nutritional products. The Illinois-based company has paid yearly dividends for nearly half a century, making it a solid name to have in your portfolio. ABT closed Tuesday at $ 104.41.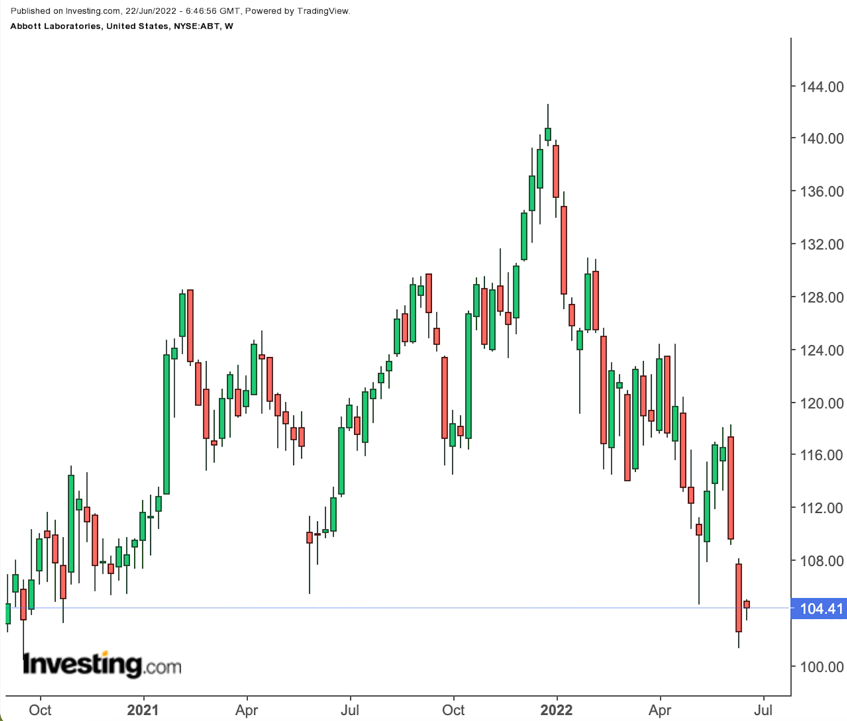 During the pandemic, Abbott has seen its diagnostic sales thrive after it invented BinaxNOW, an over-the-counter home testing device for the COVID-19 virus that brought in billions in additional sales.
However, even after the bulk of the COVID pandemic, Abbott Labs' growth prospects remain bright. The company has a diversified portfolio, making everything from glucose monitors to surgical tools. Demand for such products is ongoing, generating consistent free cash flows and dividend income for investors.
Shares of Abbott have weakened about 25% this year. Still, the health care provider has delivered impressive returns over the past five years, gaining more than 100%, including dividends.
The company pays $ 0.47 a share quarterly dividend with an annual dividend yield of 1.83%. The payout has grown over 11% each year during the past five years.
3. Visa
The global pandemic has forced many companies to cut or suspend their dividends, creating more uncertainty for income-seeking investors. Still, many companies have continued their dividend-paying streaks, thanks to durable businesses and strong cash generation capabilities.
One such enterprise is the payment behemoth Visa (NYSE :), which continued to hike its payout, despite the economic turmoil. Visa closed Tuesday at $ 194.39.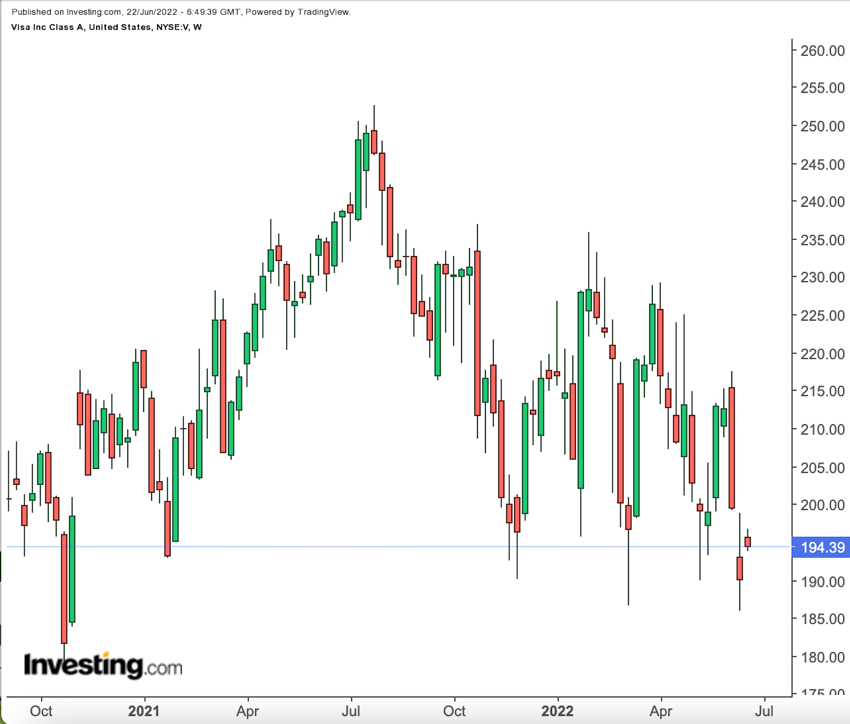 If one were to judge the stock by its paltry 0.79% yield, it wouldn't look like an attractive dividend pick. But that doesn't provide a complete picture.
Visa has a 22% payout ratio, which is highly sustainable, offering the company more room to grow future payouts. Just in the past five years, the company's dividend has grown 20% on average each year. That makes it an excellent stock to buy and hold in your portfolio.
The company should also receive a boost from stronger travel and leisure spending in the aftermath of the pandemic. Chief Financial Officer Vasant Prabhu told Bloomberg in a recent interview:
"We do see the affluent consumer back spending in force, especially on travel and restaurants and entertainment. The affluent consumer had cut back quite a bit during the pandemic not because they couldn't afford it but because they were not able to get out and about. The affluent consumer is definitely back. "