Class of 2022 honored as Collins officiates final Clarkson University commencement | Education
POTSDAM – Anyone who has been to a Clarkson University commencement knows that for President Anthony G. Collins the event is all about the students.
Each year he spends the majority of his address rattling off events and achievements from the previous year and asking students to stand if they were part of the experience. It is a list of sporting events, academic challenges, club adventures and scholarly activities. He goes down the list until he has nearly every graduate standing.
At Saturday's commencement for 507 undergraduates – Mr. Collins' last ceremony as president – it was no different.
There was the swim team, the lacrosse team, the Design-Build-Fly team and ROTC cadets.
The one difference was that Mr. Collins prefaced his list of Class of 2022 accomplishments with a question he said he had been asked a lot lately: Why had he and his wife, Karen Collins, remained president and president's spouse for 19 years at Clarkson University?
"The answer is simple and it is actually revealed on an annual basis. It is the creativity, ingenuity, diligence and greatness of our students, "Mr. Collins said as he started to tear up. "It has motivated, inspired and challenged us."
Upon completing his list of student achievements, Mr. Collins looked across the arena floor to the stands where he said his wife was sitting and read a quote that has been widely attributed to French writer and philosopher Albert Camus, "Don't walk behind me, I may not lead. Don't walk in front of me, I may not follow. Just walk beside me and be my friend. "
Mr. Collins first came to Potsdam in 1982, shortly after earning his doctorate. He'd been hired as an assistant professor of civil and environmental engineering.
After that, he went on to become the chair of his department, then dean of engineering, on to vice president of academic affairs and then university provost. He was named university president in 2003 and has held the post ever since.
On July 1, Clarkson will welcome its 17th president, Marc P. Christensen, who is now the dean of the Lyle School of Engineering at Southern Methodist University in Dallas.
Mr. Collins is not retiring from higher education. He plans on helping improve access to college degrees.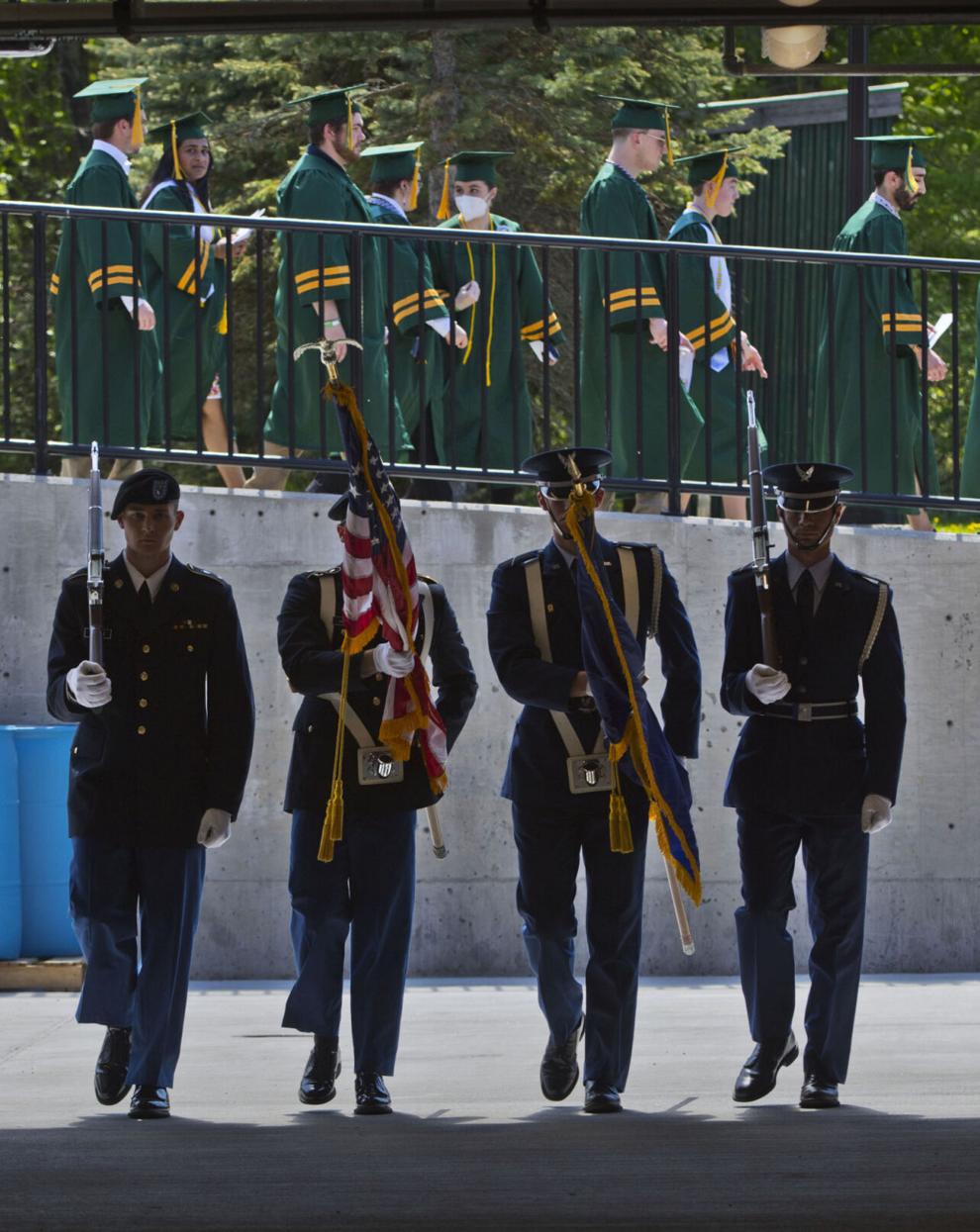 Clarkson University bestowed four honorary degrees Saturday.
France Anne Cordova, the 14th director of the National Science Foundation and a renowned astrophysicist, was noted for her "contributions in advancing the scientific and technological horizons of our nation."
She has served as NASA's chief scientist and is a chancellor emergita of the University of California Riverside.
Sveinung Loset, a professor of Arctic marine technology at the Norwegian University of Science Technology. He was awarded his honorary degree for his contributions to the study of sea ice, icebergs and icing, and for his advocacy of societal environmental responsibilities in Arctic research.
Watertown native Delos M. Cosgrove III, a pioneering heart surgeon and former CEO of the Cleveland Clinic, was awarded for his innovative contributions to the nation's health care systems, for his transformational leadership of the Cleveland Clinic and for his dedication to patient-centered service .
Mae C. Jemison, a pioneering astronaut and global humanitarian, was awarded for her dedication to sustainable development and technology for the developing world.
Ms. Jemison, the first woman of color to go to space, spent six years as an astronaut with NASA.
When she saw the Earth from the space shuttle Endeavor, she realized that people were wrong when they were worried about Earth.
"The Earth will be there," she said. "But we may not be here. The Earth doesn't need us, we need the Earth. "
The graduates need to make a choices, she said.
"Make a choice to ensure that the world will be a better place in the years to come," she said.
.